TS-Host.Com Announces Sports Sponsorship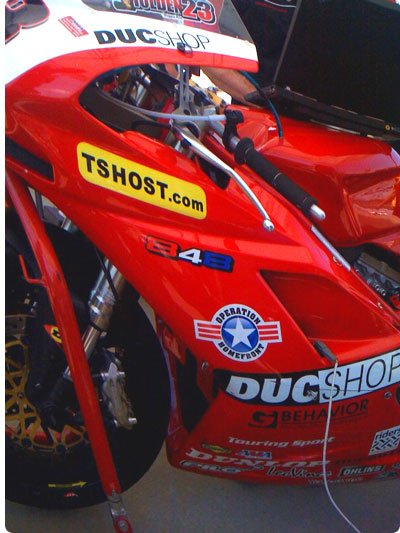 Ducshop Gears up for the Superbike Showdown April 16, 2010 Atlanta, GA- As Ducshop Racing heads to Road Atlanta this weekend to compete in round three of the AMA Daytona Sportbike Championship, TS-Host.com, the leader in business hosting, VPS and streaming solutions has announced its sponsorship of the racing team.

American Superbike privateer, Jake Holden, will race the team's Ducati 848 (bearing the TS-Host.com imprint) at the Suzuki Superbike Showdown and hopes to improve on his impressive performance in qualifying at the Daytona 200.

TS-Host has been involved with Ducshop for many years through its parent company, Tulix Systems, Inc. "We are very proud to put our brand on Ducshop Racing and know that this exposure will bring us to a whole new audience" said George Bokuchava, CEO of Tulix Systems, Inc.

This weekend's race schedule is as follows:


| | | |
| --- | --- | --- |
| Saturday, April 17 | Race 1 | 1:45pm |
| Sunday, April 18 | Race 2 | 4:15pm |


The team is also sponsored by gBehavior, Leo Vince, Yoyodyne, Microtec, Sharkskinz, Operation Home Front, Ohlins USA, DrippinWet Graphics and Touring Sport Ducati.